Corniolo art platform involves artists, researchers, international and local collectives, interested in holistic-performative practices, socially engaged art, activism and community building.
We aim practice conviviality as an art form.
SEASON 2022
TALE OF GRACE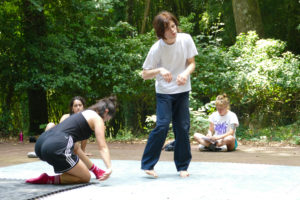 Performing Residence with Eva Geatti (Cosmesi) week 13/19 June 2022
The new 2022 season at Corniolo hosts in residence the research of Eva Geatti, who with a group of young performers investigates space in the open context of the park and the forest. The cue is developed around the novel "Il Monte Analogo" by René Daumal.
The research is accompanied by daily training by the performer Flavia Zaganelli, already resident in Corniolo in the 2021 season.
Eva Geatti's research journey began in April 2021 and has passed through various stages: Centrale Fies (Dro), Paleotto11 (Bologna), Fivizzano26 (Rome) and will make its debut in Forlì at the Festival Crisalide in September.
The residency practices Roberto Leandro Pau, Adriana Bardi, Martina Magini, and the artists Natalia Lázaro Prevost, Júlia Zapata Llargués selected in collaboration with Sala d'Art Jove, Barcelona.